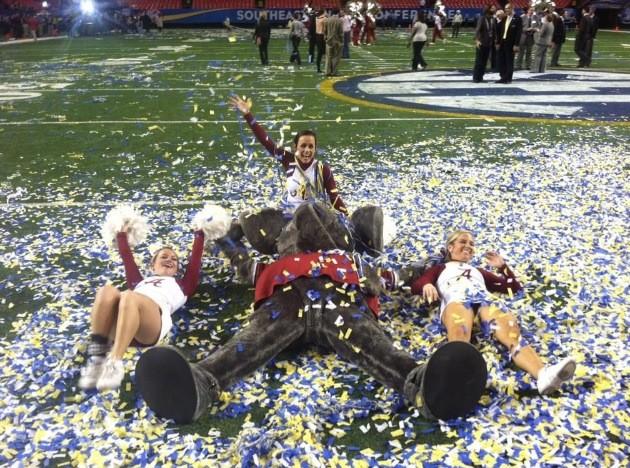 Surely, this has to be the best game that offensive line has ever played.
"Uh, no," Kouandijo said. "Honestly, it wasn't. We had a lot of good numbers, but honestly, we left a lot of offense out on that field. We have a lot to work on, still."
Oh, I don't want to believe that. I'm sick of the SEC. I don't like when the same teams win all the time. It's boring. I'm sick of Alabama, which is going for its third title in four years, the way I got sick of USC a while back.
I want to believe that Notre Dame will beat Alabama with the same defense-and-discipline approach that has fueled some of the greatest upsets in college football history. I want to believe this is like Penn State shocking Miami in the 1987 Fiesta Bowl, or Ohio State shocking Miami in the 2003 Fiesta Bowl.
But I just watched Alabama. And then I talked to Alabama players, and besides being so maddeningly nice and aggravatingly polite, they sound so much like Saban that it's frightening.
* * *
"Well, you know, I'm always thinking what I'm going to say to the team, what the team has to do next," Saban said later in a quiet moment in one corner of a near deserted Alabama locker room. "And I usually write all that stuff down. And I had written that we had a 3 p.m. team meeting tomorrow, but I hadn't written down that we have a team banquet tomorrow night.
"So I was thinking about, what are we doing next here?"
Saban took a moment, shook his head slightly, sheepishly laughing at himself.
"I mean, you just won a championship, they haven't even given us the trophy yet and I'm already thinking about what's next, what do we have to do next?" he said.
* * *
We came into the game and said it was going to be a 15-round fight," Alabama offensive tackle D.J. Fluker said. "It was. It went down to the bitter end."
How much of a battle was it? Alabama All-American center Barrett Jones injured his foot in the first quarter but played through excruciating pain for the next 50 minutes. He left the Crimson Tide locker room on crutches. Alabama nose guard Jesse Williams wrecked his right knee with 13:13 left in the third quarter, and it looked like he wouldn't be able to return as he limped around the Tide sideline for several minutes, before retiring to the bench with a towel over his head.
On the first play of the fourth quarter, though, Williams was back in the game at fullback, opening a hole for tailback Eddie Lacy on a 1-yard touchdown that gave the Tide a 25-21 lead with 14:57 left. Williams said he'll have an MRI on his injured knee Sunday.
"Once I knew it wasn't anything serious, I knew I could go back in the game and fight through it," said Williams, a 320-pound senior from Australia who sports a tattoo on the side of his head that reads, "Pain Is A Liar."
* * *
"Man, it stinks," said Murray, the quarterback, and he really didn't need to say anything more.
For Georgia, it did stink, in the worst way possible. The Bulldogs led this game 7-0. They led it 21-10. They fell behind, fought back, fell behind again and had one more chance to win it with 68 seconds and 85 yards to go. And all they needed was one more play to become legends, to change the entire star-crossed history of Georgia's program since its last national title in 1980. Instead, they dressed mostly in silence, knowing they're headed for a consolation bowl game that will likely be forgotten the moment it ends.
"I mean, it hurts me. We fought for this," linebacker Jarvis Jones said. "We had a great offseason and had a great season. Our goal was to come here and win it, and we fell short of that. You're always going to think about it. Four yards short of going to the BCS game. You're always going to think about that, no matter what success you have in life."
* * *
They had a chance at the end, with quarterback Aaron Murray having driven the team from its own 28 to the Alabama 8 with 15 seconds left. At that point, we can debate whether Murray should have spiked the ball to reset the offense. But suffice to say, the game ended with a tipped pass that was caught at Tide's 5, the final seconds ticked off and one team celebrated its impending berth in the BCS championship game while the other collapsed in exhaustion, uncertain of its bowl status.
The irony here was that Georgia probably gained more respect in defeat than in any of its 11 victories. The Dogs were criticized for a perceived soft schedule, for the way they were physically hammered be South Carolina, for the hiccups at Kentucky.
Yet on Saturday, even the opposing coach, Nick Saban, was moved to comment: "I think it's a crying shame if Georgia doesn't get to go to a BCS bowl game. That game came down to the last play. It's ridiculous. Some teams are 7-5 and talking about winning their conference and going to a BCS bowl game? Something's not right here."
* * *
"C.J. came on it," Smart said. "We talked about it all week and said we would do it if we had the situation. It played out perfectly. He batted the ball. Probably a good thing the guy caught it. Otherwise, they get another snap. It cost them the game, the guy catching it."
"We run that route a lot of times, because when you run the speed-out, it grabs the attention of the cornerback," Georgia head coach Mark Richt said. "You try to get the corner thinking the ball might be going to the inside receiver (Conley) and then throw it over the top (to Mitchell).
"We were taking a shot at the end zone right there. But the ball got batted, so what can you do?"
Follow me on Twitter and Facebook.